Running TeamViewer on an Eclipse PC
From the Eclipse PC, download the TeamViewer QuickSupport app from the TeamViewer website.
Run the downloaded program to start a QuickSupport session.
Installing TeamViewer on a Pathfinder PC
Equipment required:
USB removable flash drive
Insert USB into any port on PC.
Download TeamViewer Installation file and extract the files to your removable flash drive.
Right click on the folder (highlighted in Figure 1).


Figure 1: Right Click the Folder
Select Send To (highlighted in Figure 2).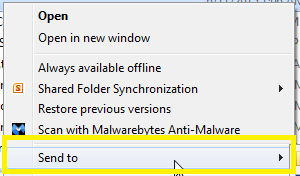 Figure 2: Send To
Choose the USB removable (highlighted in Figure 3).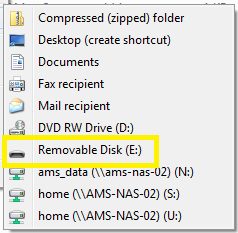 Figure 3: Removable Disk
NOTE: It doesn't matter the letter as long as Removable Disk is chosen.
Close window
Remove USB drive from computer.
Locate Pathfinder PF PC.
Disable Write Filter.
Insert USB drive into any of the USB ports on the back of the Pathfinder PF PC.
Install the rootsupd.exe by moving it to the desktop and double-clicking the icon.
Figure 4: rootsupd Icon
NOTE: There's no visible indication that the install happened, so just wait 10 seconds after double-clicking the .exe before proceeding to the next step.
Copy TeamViewerQS.exe (http://download.teamviewer.com/download/TeamViewerQS.exe) to the same location where it is on the new PCs: the Pathfinder Tools folder on the Desktop.

Figure 5: TeamViewerQS Icon
Enable the Write Filter.
Install Complete!