Folding Machine Safety Doesn't Happen by Accident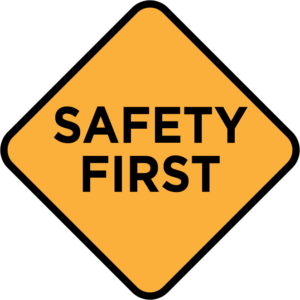 It's no surprise that people get hurt. Some by sheer clumsiness or inattentiveness, some by negligence, and sometimes accidents just happen. People get hurt. It happens.
In the manufacturing sector, the inevitability of employee accidents is a concern for business owners. Employee safety equates to a better work environment, happier employees, and less risk of judgements or fines. In recognition of June being National Safety Month, it's good to focus on safety and celebrate its importance; keep in mind however, safety should be a mindset year-round.
Company safety protocols and preventatives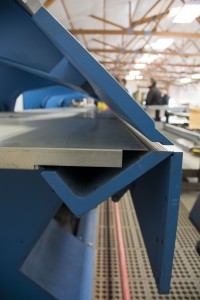 We're all familiar with them: the mandatory safety trainings, personal protective equipment (PPE), lockout tagout, light curtains … the list goes on. All excellent preventative safety measures. But there is one small problem: these measures can only protect if they are used, and used correctly.
Remember when car seatbelts first became law? We all know seatbelts prevent a person from being ejected from the vehicle during an impact, and can reduce the risk of death by 45% according to the CDC.  It's been over three decades since New York passed the first law mandating the use of seatbelts, but we still have drivers and passengers that neglect to put on their seatbelt.  No matter how simple the safety protocol, adoption is an ongoing battle.
In the manufacturing world safety is a serious matter. Inadequate safety could lead to serious injury and even death. No business owner wants to see their employees get hurt. In the event of a workplace injury, not only will a company have to face the expenses and judgements handed down by OSHA, they will also see an increase in their workman's compensation insurance, which can be significant.
This is definitely the case with metal fabricators, where machinery can potentially cause catastrophic injuries. This article profiles two actual metal manufacturers in the U.S., and the solution they found that safeguards their employees from potential injury while using a folding machine. Even though we've kept company and individual names out for security reasons, these stories are just as relevant.
Metal manufacturer in Arkansas increases folding machine safety
This manufacturer has been in business since the 80s, with multiple locations throughout the U.S. They use both roll form machines and folding machines to fabricate their products, and a network of distributors nationwide to install their products in commercial and residential applications.
After an unfortunate folding machine accident where an employee sustained a serious injury, the expected OSHA inspection occurred, with the mandate to improve the security of their folding machine. While reviewing the different safety options available for folding machines, this manufacturer learned about one solution that was accepted by OSHA as abatement for a similar situation. Not taking the decision lightly, the manufacturer conducted site visits of the supplier and also with customers to determine the viability of FoldGuard, a safety and guarding system made specifically for folding machines.
Once the manufacturer installed FoldGuard, they found such an improvement to their folding machine safety that an executive decision was made to install FoldGuard on all their folders in all their locations.
An engineer working at the manufacturer said, "Since then, we haven't had any smashed fingers in the sites where we have FoldGuard installed.
"In our company we have one motto: we are going to send our people home safe. There is no way to know what injuries we've prevented, but given the cost of an injury, not just monetarily but also to our employees, I don't have any question it's worth doing. We can't put a dollar value to it, but to us, FoldGuard is absolutely worth it, if it keeps our employees from smashing fingers."
For manufacturers looking for a folding machine safety solution, the engineer said, "If your motivation is safety for your employees, I recommend FoldGuard."
Folding machine safety solution that works for Texas fabricator
Similar to the Arkansas manufacturer, this Texas fabricator sought out FoldGuard after an employee injury. Upon hearing FoldGuard was accepted as an abatement solution for a similar company, they felt confident FoldGuard would be approved by OSHA for their abatement.
A manager at the fabricator said that the company did not want to see their employees get hurt, and FoldGuard protects operators from themselves. He said, "One of the worst days I had was reading the statement 'acutely pulverized or amputation.' That was a life-altering statement to read about one of my employees."
According to the manager, other folding machine laser safety systems could be bypassed by their operators. It was possible for operators to run the machine even when there was an obstruction. With FoldGuard, since it is incorporated into Pathfinder (graphic controller system for folding machines), FoldGuard stops the operator from running the machine in the event of an obstruction. The manager said, "It's very well thought out."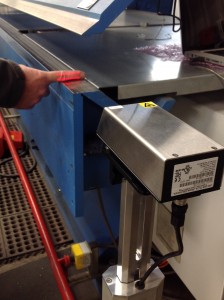 Since the initial install, the fabricator has installed five other folding machines with FoldGuard. "We really haven't had any problems with them," said the plant manager. "They get put in, and they work. We install them, and they're just there. They just work. We're pretty happy with them."
The plant manager also appreciates the potential to speed up production since FoldGuard enables folding machines to operate without the need for a safety stop on each cycle.  He said, "FoldGuard allows us to speed up the machine; allows that second step to get removed, as long as all is good. This helps out on our throughput."
To companies looking for a folding machine safety solution, the plant manager says, "don't be scared. Get out of your safety department's way. FoldGuard is the inexpensive way to feel comfortable that you've done what you can to keep your people's fingers at their end of their hands."
Acknowledging there is no foolproof way to protect employees, he said, "Nothing is foolproof; people always come up with ingenious ways to skirt the system. FoldGuard is the best you can do to offer protection with controls. Other companies offer light curtains and lasers, but it's not the same thing. FoldGuard just works better."
With June around the corner, the topic of safety is going to be on everyone's mind. Take a look around your plant, especially your folding machine. If you are not confident your folding machine has the safety protocols you want to protect your employees, give us a call today.
About FoldGuard
AMS Controls is proud to be the exclusive provider of FoldGuard by Lazer Safe system. Specifically developed for folding machines, FoldGuard provides a complete safety solution including optical guarding of the clamping operation, clamp speed, and overrun monitoring and management of additional machine safety components.
For more information on FoldGuard, visit www.amscontrols.com/product/foldguard.
About AMS Controls
AMS Controls provides a complete production management system and machine controls for manufacturers of panels, purlins, trim, studs and more. Since 1977, AMS Controls has sold 12,000+ controllers worldwide.
Industry leaders have chosen AMS Controls' complete production management system to optimize the manufacturing of panels, purlins, trim, studs and structural products. Our controllers have been used with multiple leading folding machines including: Jorns, Schechtl, RAS, Roper Whitney, Bradbury and more. For more information on AMS Controls, visit www.amscontrols.com.