6370 Printer Interface Update Procedure
Equipment Required:
Standard Ethernet patch cable
USB-Ethernet adapter
Laptop
6370_FlashUpdateProcedure.zip folder that contains:

6370 Flash 522x.exe Programming Software
Printer_6370.x19 file
6370 Pin Assignment
| | |
| --- | --- |
| Pin | Assignment |
| A1 | Printer TX Current + |
| A2 | Printer TX Current – or RS GND |
| A3 | Printer RS232RX or RS485A |
| A4 | Printer RS232TX or RS485B |
| B1 | Reserved |
| B2 | Reserved |
| B3 | Printer RX Current + |
| B4 | Printer RX Current – |
| C1 | 24 VDC + |
| C2 | 24 VDC – |
| C3 | Reserved |
| C4 | Reserved |
| D1 | Can – |
| D2 | Can + |
| D3 | XL200 RS485B |
| D4 | XL200 RS485A |
Connecting to the Printer Interface for Configuration
Note: Make sure the 6370 is not communicating with a printer or XL2 series controller. Disconnect the RS-485/RS-232 communication terminals A2, A3, A4, and D3, D4.
Connect a standard Ethernet Patch cable from the laptop's Ethernet port to the 6370 and power it up. If you do not have an Ethernet port on your laptop, you will need to use a USB-Ethernet adapter.
Boot up the laptop.
Click on the Windows Start button and type "Control Panel."
Navigate to Control Panel > Network and Internet > Network Connections.
Select Network Connections.
Right-click the Local Area Connection and select Properties.
Select Internet Protocol (TCP/IP) and choose Properties.
Select the tab for Alternate Configuration.
Select User Configured and set as pictured.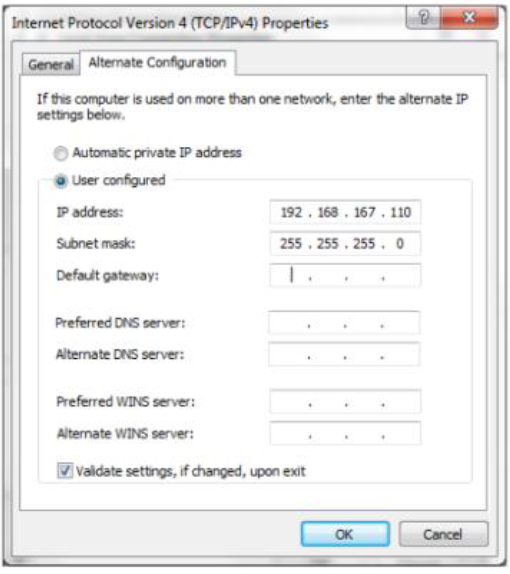 Select OK.
Download the 6370_FlashUpdateProcedure.zip and place the folder on your Desktop.
Extract the folder. Inside the folder is the Printer.s19 update file and the FlashProgrammer.zip.
Extract the FlashProgrammer zip file.
Navigate to the Flash522X.exe and open the application.
Select "Connect" and wait for the fields to be filled in or an error message. If an error message appears, try one more time. If it fails again, please check the previous steps for any errors.
Select the button with three dots next to File Name.
Select the .s19 file located in the downloaded update folder.
Select "Program" and wait until the "Download Successful" box appears. Select OK.
Open a web browser (Chrome preferred) and type or copy/paste the following in the address bar:

192.168.167.100/default.html

Confirm that the software version is 3.04.