Creating an Eclipse Classic Package File
When errors occur in Eclipse Classic, your feedback is an important tool is resolving the error. When you contact our support team for assistance with an Eclipse error, they will often request a package file. Follow these instructions and include the result in an email to support@amscontrols.com.
From the Master Eclipse PC, ensure Eclipse-COMM is closed and that all Node users have logged off.
Click on the System Tools Menu and select Rebuild Indexes.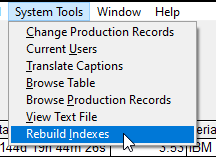 After the rebuild has completed, start Eclipse Classic.
When Eclipse Classic has started up, click on the Help menu option and then select Package Files.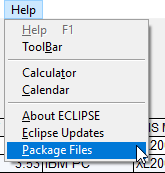 The Package Files dialog will appear. The image below shows the default selections. Fill out the company and contact information fields. If an AMS Controls technician asks for additional selections, please check the appropriate boxes. If you are unsure of which boxes to check, ask a technician or select them all.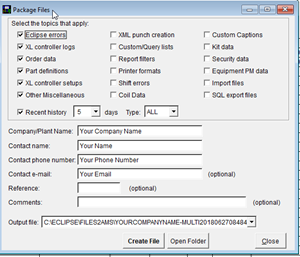 Once the contact information is entered and the appropriate boxes are checked, click on the Create File button. You should see the following message when the process is completed.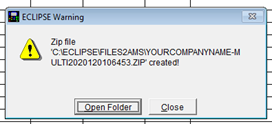 Select Open Folder. This will send you to C:\Eclipse\files2AMS

Send the .zip file that was created to support@amscontrols.com. If the file is too large to send via email, please use Microsoft OneDrive, Google Drive, Dropbox, or another FTP site and provide the link to our technician.
To gather additional history files, navigate to C:\Eclipse\history and select the GEN, LOG, and PRD files for the dates of your error. The history files follow the naming convention: GENYYYYMMDD.DBF, LOGYYYYMMDD.DBF, and PRDYYYYMMDD.DBF.